Shantou Oriental Technology Co.,Ltd.is located in XiaShan,Chao Nan Distrist,Shantou city,Guangdong Province,CHINA Which covers over 36,000 square meters,the construction coverage ....

>>MORE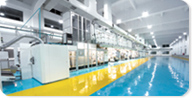 | | | |
| --- | --- | --- |
| About us | | Your present position is : Home > About us > About us |
Shantou Oriental Technology Co.,Ltd. locate in XiaShan,Chao Nan District,Shantou city,Guangdong Province,CHINA Which covers over 36,000 square meters,the construction coverage covers 40,000 square meters and landscaping covers 15,000 square meters(New factory covers 85,200 square meters and Construction
coverage 60,000 square meters).we mainly produces and sells a serials of aluminum monobloc aerosol can and Bottle. The peoducts are being widely use for Pharmaceuticals, Food, Beer Bottle, Soft drinking, Beauty Hair products, Self-nursing products,Car nursing,Sanitary Products,etc.
We made investment of 580 Million RMB to import 5 Brand New advanced high speed Automatic Aluminum Monobloc can production lines.The Production lines are best equipments currently in Aerosol Industry among the world and it's also the only One Advanced high speed production line in China with the annual capacity of 300 million Can.Adapting the programmable logic controller SIEMENS S7,All Production Lines composed of an Extrusion press,Brushing & Trimming machine,Washing system,9 guns Internal Coating machine For Three times Internal Coating,9 color Decoration unit with online checking system and perfect 56 Station Necking Machine with leakage testing
system as well as post washing system.
We could supple the variety cans with the can diameter between 25-66mm and the height between 60-260mm.Nine color printing machines and production speed Minimum 200 cans and Max.240 pieces Per minute can are not only assure the high quality in line with FEA International Standard and China National Standard but also fully meet the requirement of the customers.Oriental Certified by ISO9001 in 2001.Oriental awarded Drug package material & container CFDA Registration License and Export Package License as well as National Industrial products Manufacture Certificate.
As A Leading manufacturer of aluminum aerosol can and bottom, As the only one Possessing best advanced aerosol can making Equipments in China,Oriental persisting on business princpal of " Attaching importance to honesty and credit,Seeking top quality of product and striving for first class service to fit for customer",Oriental will present you best service with continuously improved high quality and precise aerosol products.We are Sincerely expecting your Visit!